Max went to the doctor today and is half an ounce short of his birth weight!! Yay!!
Official Notice: I appreciate all comments and concerns that anyone on my flist may have about breastfeeding and advice that anyone may have. I ask that you please refrain from being negative. I am aware that there are many different schools of thought about these things and I am doing what I feel is best for my son and myself right now. Thank you.
On with my entry...
We had some issues with Max dropping weight. The solution that his doctor came up with was for me to pump and give Max whatever breastmilk I could pump out after each feeding by bottle. This was to increase my supply as well as the amount of food Max was getting. Anyway, we went to the doctor today and she gave us the go ahead to cut down on the bottle supplements and start moving over to just nursing on demand. I am still going to have to pump a little because I have gotten ahead of Max's appetite with my milk production and if I don't my boobs might explode. And I think that the Slytherin really likes being able to help out with the feeding once in awhile. So far Max hasn't had any problem going back and forth. The good news is that we are one big step closer to just being able to nurse when he is hungry. I am looking forward to it.
Other than that, my mom has been here since Sunday and has been helping out as well as taking me to Target and buying stuff for Max. Believe me that has been nice ;) My mom has also been taking a lot of pictures and video of Max. Here is my favorite: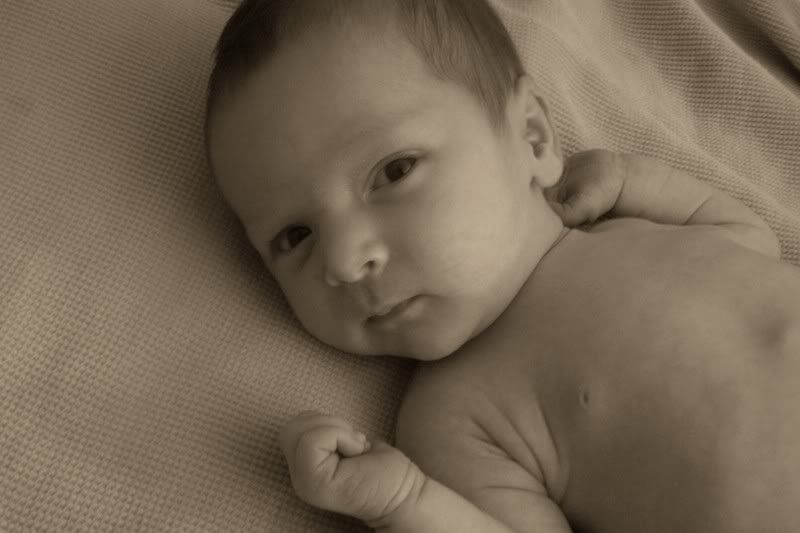 Hello all! Greetings from the land of feedings and diaper changes.