The Puff is doing well and its heart is beating away at 152 beats per minute.
Also, I am only 7 weeks along instead of 8 as they thought before which is awsome because it means that I stopped smoking and got my blood sugars under control earlier in gestation than we thought before! :D So my due date is now May 9th.
And here is the Puff! They were nice enough to lable it for me at the doctor's office, I guess incase I wasn't sure what I was looking at. Hee hee.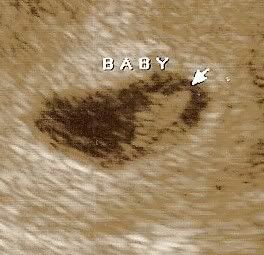 If anyone would like to keep up with my blog about my pregnancy you can go
HERE
.
On a fandom note, I want to apologize to all the great authors on my flist. I have not had the most energy lately and I have not been able to read nearly as many fics as I usually would. Please forgive me for not reviewing right now. I still love you all and think that you are brilliant!!!
I am going to try to write a little bit in the coming weeks, but that will be the focus of my fandom energies for the moment.
I went to the OB again today and got some lovely news.
Current Mood:

ecstatic